A Professional Science Masters (PSM) Program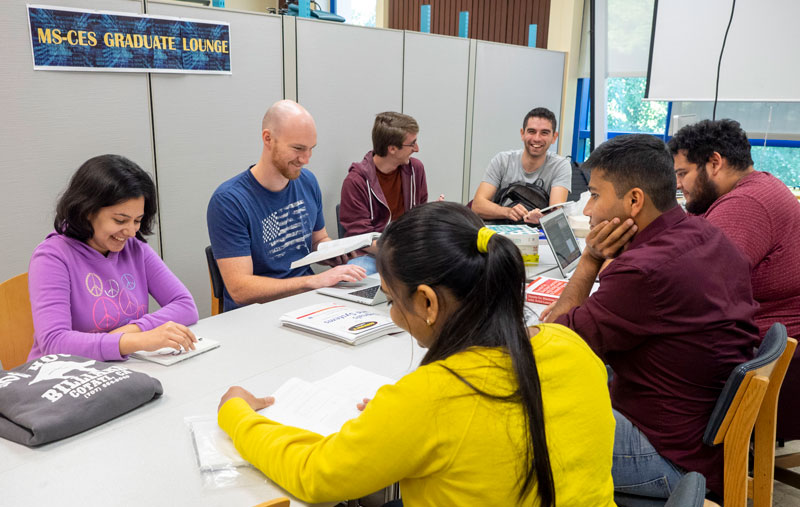 The Master of Science degree in Electrical & Computer Engineering (MS-ECE) at Sonoma State University is a graduate program focused on interconnection between electrical engineering hardware and computer science software. The 32-unit curriculum blends relevant academic coursework with practical engineering experience, thereby addressing the evolving demands upon engineering in our progressively technology-driven world. The program is recognized as a professional Science Masters (PSM) program by the Council of Graduate Schools.
Who is it for?

The MS-ECE program is designed for professionals holding bachelor degrees in diverse areas of engineering and sciences who desire to further their career paths by adding new knowledge, tools and skills from a cross-disciplinary perspective. It provides value to both practicing engineers and engineering educators. The program is designed to accommodate both full-time and part-time students who work during the day.

How long does it take?

The duration of studies will depend on the relevance of their undergraduate degrees to electrical engineering. Students with a background in electrical engineering will be able to complete the program in less than two years.

What if I don't have an electrical engineering degree?

Interested students with undergraduate degrees in computer science, physics, materials science, and other science and engineering fields are highly encouraged to apply. Admitted students will set up a meeting with their designated adviser to design the most efficient plan of studies for the graduate courses as well as the appropriate prerequisites.

Where can I find a job after I graduate?

Our main goal is to prepare the MS-ECE students for employment in high-tech industries. The curriculum includes internships and opportunities for collaboration with local industries. The North Bay industries that provide internships and employ our graduates include, PG&E, Broadcom, Ciena, Cyan, Keysight Technologies, Parker Hannifin Corporation, Pocket Radar, and more.

What if I am an International Student?

Our students come from a diverse background. Many are international students from China, India, the Middle East, Europe and Latin America. Due to the diverse academic backgrounds of our incoming students, we do not require a GRE at the time of admission. Teaching assistantships and other forms of financial assistance are offered to qualified students.

Who teaches the MS-ECE courses?

The MS-ECE faculty is composed of professors from Sonoma State University, whose interests traverse the fields of computer science and engineering, as well as professionals from the local community who have cutting-edge expertise in the various engineering disciplines of interest and are qualified to be adjunct faculty in SSU.

What is the role of the local industry in the MS-ECE program?

A linkage with local industry in the form of an Industry Advisory Board (IAB) is an integral part of the program. Such an advisory board is critical to ensure the Program meets local community needs. The IAB provides the Program with valuable input regarding the new scientific and technological developments and educational needs of the industry. It also facilitates internship opportunities for students, joint student research/project development and supervision, faculty-scientists/engineers joint project opportunities, equipment and financial support from the industries. Through this linkage of academic learning and practical application, students obtain a solid education indispensable for working in a professional environment.

What courses are required to complete the program?

Go to MS-ECE Program of Study for more information.
MS-ECE Program Educational Objectives
Educate and prepare students to be independent investigators.
Educate students to be leaders in their professions.
Educate students to be socially responsible engineers, committed to community service.
MS-ECE Program Outcomes
The students of this program will acquire:
knowledge of the theory of high performance computing, communications and/or networking
critical thinking ability and analytical and simulation tools to do system performance evaluation
ability to model and analyze scientific and engineering problems
ability to apply theory to design and implement efficient computing and/or communications systems
ability to integrate knowledge from multiple interrelated disciplines to formulate, design and/or implement interdisciplinary projects
ability to investigate and formulate research problems and/or design projects independently
ability for effective written and oral communication skills.