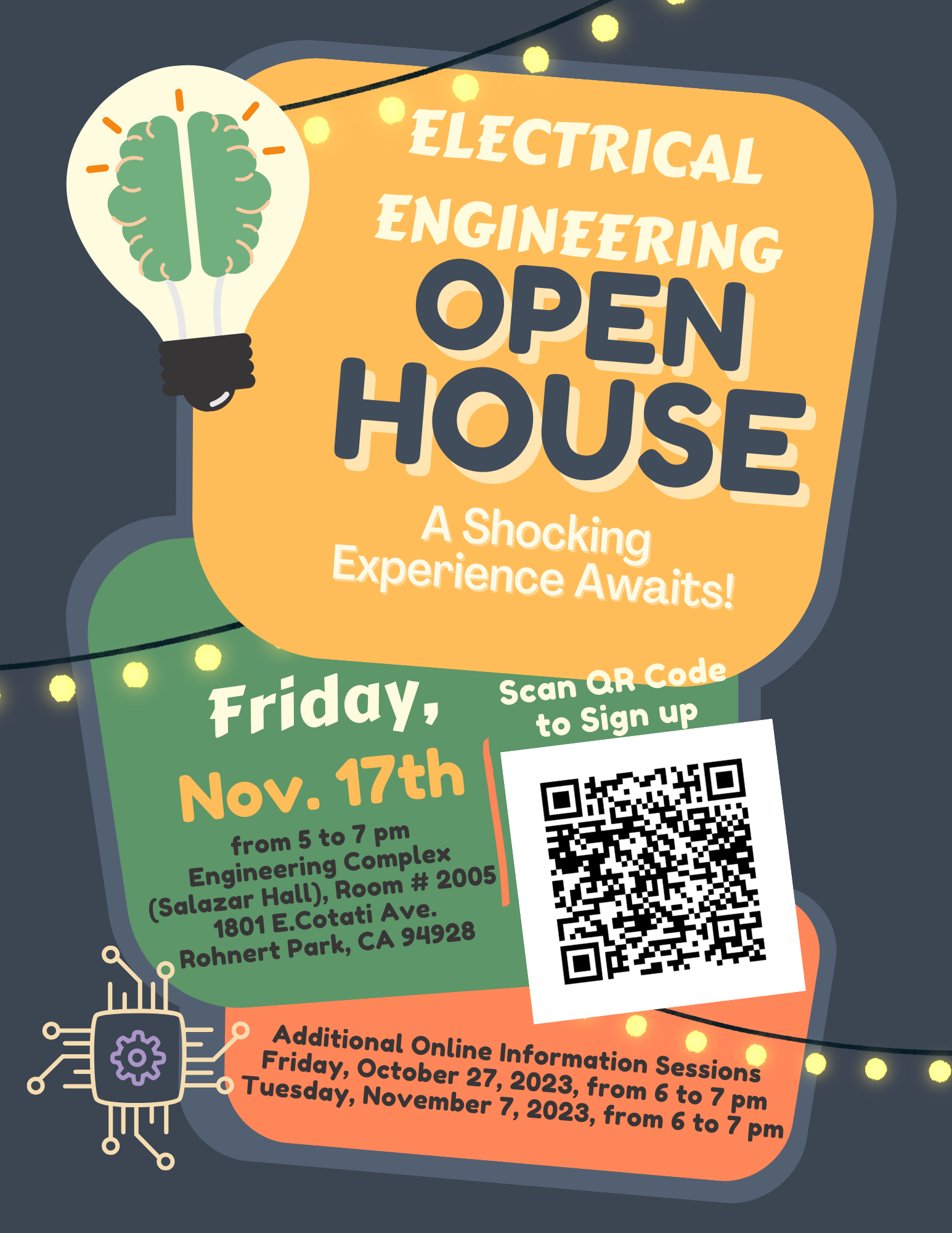 We are excited that you are considering us for your higher education. The department of Engineering at Sonoma State University offers a Bachelor of Science in Electrical Engineering (BSEE) degree and a Master of Science in Electrical and Computer Engineering (MS ECE) degree.
Please join us for one or more of the following Information Sessions to learn more about our programs and for a Q&A opportunity with the faculty and advisors and tour of our facilities.
BSEE Information Sessions & Tour
Electrical Engineering Open House:
Date: Friday, November 17, 2023
Time: 5:00 PM - 7:00 PM
Venue: Engineering Complex, Salazar Hall, Sonoma State University
Event Highlights:
Self-Guided Tours:
Explore our state-of-the-art facilities, laboratories, and classrooms at your own pace. Get a feel for the environment where your academic journey will take place.
Project Demos from Students:
Witness cutting-edge projects and innovations developed by our talented students. This is a fantastic opportunity to see the real-world applications of electrical engineering concepts.
Student Clubs:
Learn about and connect with the Electrical Engineering (EE) Club and the Society of Women in Engineering (SWE). Discover how you can get involved and make connections.
Program Information:
Our faculty and staff will be available to provide comprehensive information about our Electrical Engineering program, including curriculum, research opportunities, and career prospects.
Opportunity to Talk to Current Students, Alumni, and Advisors:
Engage in meaningful conversations with current students, alumni, and academic advisors. Gain insights into student life, career paths, and academic support services.
This is your chance to get a firsthand look at what studying Electrical Engineering at Sonoma State University can offer you. We hope you can join us to explore, learn, and connect with our community.
We look forward to welcoming you to our Electrical Engineering Open House and helping you make an informed decision about your academic future. See you on November 17!
MSECE Information Sessions
Please submit info session and tour request to engineering@sonoma.edu.
Parking Information
Please visit Parking Permits & Passes to purchase your parking permit online or at kiosks located at parking lots. If you are a teacher or counselor, please send us an email to engineering@sonoma.edu and we can send you a parking pass. Parking lots E and F are closest to the Engineering Department. We are located on the second floor of Salazar Hall (Maps and Directions).